---
Book Online
View Waiting List
---
Millionhair & The Beauty Lounge is located at the Brecks in Rotherham.
We are one of the area's leading Hair & Beauty specialists. Our spacious modern salon is home to a team of highly qualified creative and fabulous people.
We offer a service to suit the needs of all our clients, from precision cuts to cuts that are edgy and fashion forward with colours from classic to something with a little more vibe.
Our Beauty Salon offers all the very latest in skin and body technologies, from calming aromatherapy and relaxing massage to fab reduction and skin tightening.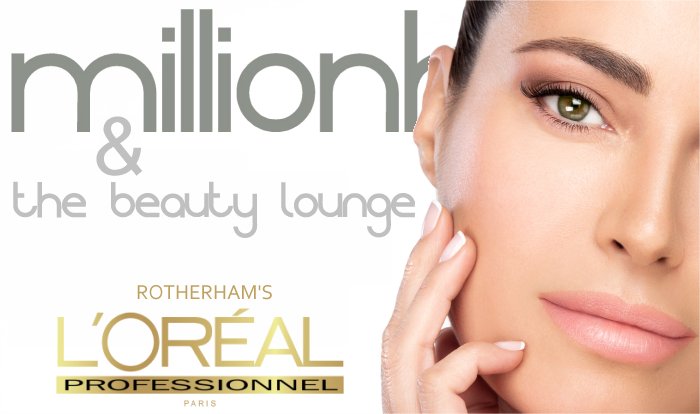 ---
What our clients say....
Brilliant bunch of girls, always so kind and helpful when i come in. Katie does my nails, always amazing. Lauren is also amazing. Them two girls go above and beyond for whatever i need. I have never left feeling like i didnt get what i asked for. Love them ❤
Lauren Spenceley,
Fantastic experience, had a massage, nails and a blow dry. So friendly, feel so good. I am so looking forward to going again x
Fiona Daniels,
Thank you to Anna who did my hair today, I love it, first time at this salon and I will be returning. My hairs not looked and felt this good in years. Nice friendly atmosphere and more than helpful when helping me with the choice of colours I wanted. Can't thank you enough, highly recommend.
Dawn Littlewood,
Thanks for today ladies, the big rush to get me back to work on time and my amazing colour and a few hours later sorting my little mans's hair out for our hols ( he's now absolutely fine, must just have needed his little power nap on your sofa) xxx
Sarah Atkinson,
Great place to go! I would highly recommend Millionhair!
Margaret W,
Fabulous Facial! Had a fabulous facial with Katy on Saturday, she listens to what I want to achieve from the facial and always delivers. I would highly recommend a visit!
Jane R,
Thank you Nadine for my fab haircut now I'm back to my old self without dought the best hair dresser i have ever been to Debbie you've got the best of the best they take pride in their work just love it
Jennifer Eyre,
Fantastic service, amazing surroundings and staff to compliment Thank you
June A,
Best salon experience I have ever had Amazing girls. Up to date hair styles. Best salon entertainment should be on the TV!! Would be best reality TV ever
Charlotte E,
I was due to have a spray tan today (after hearing several recommendations) however due to a family bereavement yesterday could not attend. My husband went in to pay for the appointment and tells me the ladies were really understanding and kind. Will definitely be booking in future 💕 xxx
Alex Marsden,